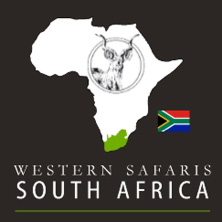 South Africa
Western Safaris South Africa is a family run operation, offering personalised and memorable hunting safaris in the Eastern Cape. The Bowkers are a typical South African farming family and welcome you to experience their genuine hospitality and lifestyle. Hunting is in the traditional walk and stalk fashion and the experienced professional hunters, Kevin, his father Rob, and brother-in-law Edward have extensive knowledge of the area, which has been home to the Bowker family for 200 years.
We offer both trophy and non-trophy plainsgame hunting. Natalie, Pam and their dedicated staff run a first class camp, offering personal attention, excellent food and a homely atmosphere. Western Safaris South Africa is based near Grahamstown roughly two and half hours from Port Elizabeth airport.
The landscape in this part of South Africa is varied and scenic, ranging from rolling wide open plains, through savannah, to mountains with thickly wooded valleys and bushlands. The diversity of terrain results in a wide range of huntable species and creates ideal conditions for good and exciting hunting. Waterfall Farm is a 4700 ha, fully operational cattle and sheep farm with thriving game numbers due to careful management and conservation.
In addition to hunting on our farm we have access to neighbouring farms, forming the Fish River Conservancy, which give us a healthy core hunting area in excess of 16 000 hectares. We have access to numerous other Game Reserves and Game Farms across the Eastern Cape and South Africa and are thus able to customise your safari for a wide range of species.
The Eastern Cape offers some interesting hunting experiences and species including the elusive and challenging Vaal Rhebok in the mountains, exciting hound hunting for caracal, driven hunts for Springbuck and Kudu, and unusual species such as Bontebok.